Seal Pillow Plush
Get the softest hug from our adorableChubby Seal Pillows. Our lifelike plush seals are so soft, cute and cuddly that we can hardly stand it!

These cute seals are the best cuddle pal to enjoy a cozy evening at home. They look so cute because they are actually modeled after real Spotted Sealswho are renowned for their chubby blob like appearance.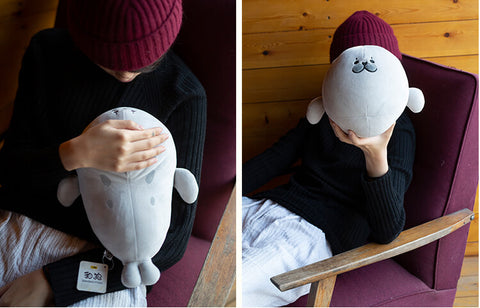 Why Buy the Fluffy Soft Seal Pillow?
Hyper Realistic- Inspired by the many spotted seals who like banana poses,  this Seal is so chubby that we have replicated its special posture into our pillow.

This chubby seal pillow has high-quality down cotton filling give you better skin touch feeling. Chic soft and it feels like you are hugging a cotton candy.

With its super cute life like appearance this makes for a great gift for friends and family to be enjoyed all over the world.
Pillow Size : 30x18x17cm/12*7*6.9inch 
Package: 1x Seal Pillow
Filling: Down cotton
Surface material: High Elastic Velvet
Copyright: NATURALISM®/博物小馆®/KEAIart®
If you're not fully satisfied, please fill in our
contact us form
and we'll quickly work to correct the problem.